Architect, Mayor, and Inspiring Person
Okay let's start! Who doesn't know Ridwan Kamil? We usually call him Kang Emil or RK. As what I said at the title, he is an Architect, and now he is the Mayor of Bandung, the city where I live.
By the way, on that photo which one is Ridwan Kamil?
THE LEFT SIDE!
TETOT You are wrong. The left side is the korean idol Lee Min Ho.
And Ridwan Kamil is the right side.
Don't they look similar?
Let's get closer to him!!
He was born in Bandung, 4th of October 1971. So now he is 45 years old. And on 7th of December 1996 he got married with Atalia Praratya, Kang Emil usually call her Si Cinta. The fun facts is, he fell in love with his wife from love at the first sight.
What about his education life?
He had a good quality of education, WAAAAA I'm really jealous :(
On 1978, he went to SDN Banjarsari III
Then, he went to SMPN 2 Bandung. Yeah, one of the best elementary school in Bandung. My dream, unfortunately I can't go there, huhu
NEXT! Again, he went to the best senior high school Indonesia. YAP! SMAN 3 BANDUNG! After three years of hardwork and now I'm here!!! YUHUU Believe or not, he is my motivation to go to this school
Then, he went to Bandung Institute of Technology. Here, he studied about architect
It's not enough. After he graduated from ITB, and worked some months in USA, he got scholarship to University of California, Berkeley on 1999-2001. He studied about
Urban Design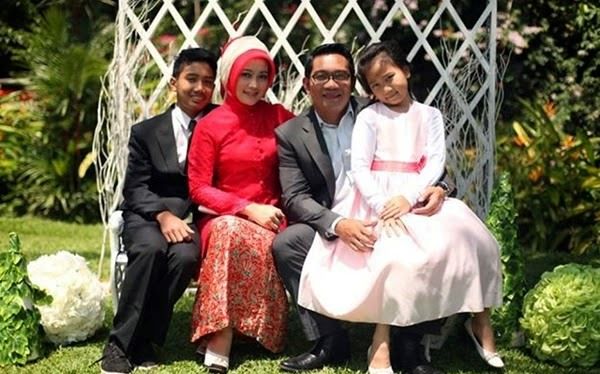 Even he had so many work, so many things to do, he still can give his love to his family. After he married with Atalia Praratya, they got two children. The first one is my senior at SMAN 3 Bandung, Emmeril Kahn Mumtaz. Now, he is on the third grade. And the second one is a daughter, Camillia Laetitia Azzahra.
Job: As an Architect
The first time I now him is before the Pilkada. The first time I now him was from the television. The TV program showed about Ridwan Kamil's bottle house. The house is made of the recycle bottle. As what I remember, he took many times to collect the bottle.
After the TV show, I browsed about Ridwan Kamil. Many questions about him start to filled my thought. Such as
"Why he is so creative?"
"Who is he?"
"What a wonderful architect!"
(And I start to have willingness to be an architect in the future)
Another Ridwan Kamil's creation is the Museum Tsunami Aceh
In architecture, he also built his own company called URBANE, a company that work in planning consultant, architecture, and design.
Job: As a Mayor
He, with Oded M Daniel, are success improve Bandung. From 2013 until 2018. Many problem were solved because of them. Many new innovation were given by them in this three years.
Many park that can you use to hangout with your friends.
A strict rules
Conserve our culture and tradition with ReboNyunda
And the other program like GPS, Bandung Culinary Night, KamisInggis, DamriGratis, and many more.
As Inspiring Person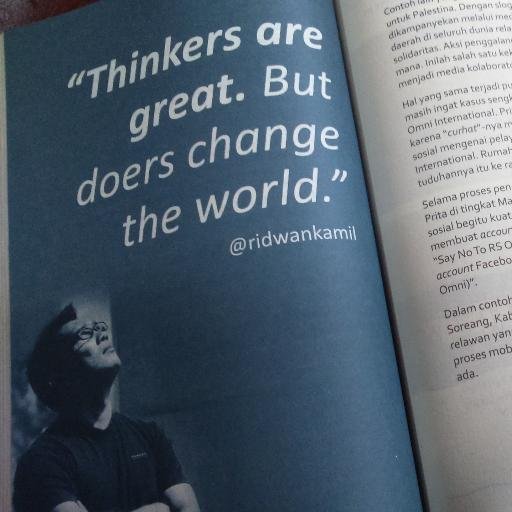 He inspire me because of his creativity and full of innovation. His idea that can change, improve Bandung. And also his creation in architecture. The time management that he use, so he can love Bandung, his family, and us.
And his hardwork is not useless. He got many achievement, and he made Bandung won many achievement.
Beside his really really busy life, he still can entertain us.
That's all that can I tell about my inspiring person
SPECIAL THANKS TO KANG EMIL THAT HAS INSPIRE ME
See you on my next bloggg!
1. When was he born?
a. On 4th of October 1971
b. On 4th of October 1973
c. On 14th of October 1971
d. On 24th of October 1971
e. On 4th of October 1972
2. Which one is the correct statement based on the text?
a. He is Mayor of Jakarta
b. He got married on 4th on December 1996
c. He studied architecture at University of California Berkeley
d. On 1999-2001 he studied at Bandung Institute of technology
e. He has two son
3. Who is Emmeril Kahn Mumtaz?
a. He is Ridwan Kamil's second c
hildren
b. He is the Mayor of Bandung
c. He is
Ridwan Kamil's first c
hildren
d. He is Camilia's little brother
e. He is alumni on SMAN 3 Bandung
4.
And his hard work is not useless. He got many achievement, and he made Bandung won many achievement.
The underline word has the same meaning with...
5. Which one is not the program from Ridwan Kamil?